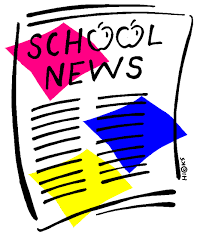 Daily Memo
Fessenden-Bowdon School
Tuesday, August 27, 2019
FESSENDEN-BOWDON PUBLIC SCHOOL
Announcements for Tuesday, February 25, 2020
Happy Birthday To ~ Cheryl
Today's Lunch is Sausage, Potato Wedges, Beans, Grapes, Milk
Post Prom sign-up sheet is located in the office. Students in grade 9-12 that are interested in going need to be signed up with their t-shirt sizes by Friday, February 28th.
.Hats off to Cheryl ~During the month of February, we are doing a fundraiser for Cheryl Woolsey. All money will be donated to her family to use where they see fit. Students can bring a dollar to Mrs. Neumiller on Friday (2/28) morning at the buddy bench to be able to wear their hat.
National FFA Week Dress Up Days (February 24th-February 28th)

Wednesday, Feb. 26th - Farmer Day (Come in your work boots and jeans)

Thursday, Feb. 27th - Barnyard Day(Dress like a Farm Animal)

Friday, Feb. 28th - FFA Day (Wear an FFA shirt or BLUE & GOLD. FFA Members can wear their jackets!)
Any Items to be included in the Daily Announcements need to be emailed to jenn.tesch@fessenden.k12.nd.us by 3:00 PM to be included in the next day's memo.
Staff & Students ~ Reminder Efunds is available to pay all fees online.
SCHOOL EVENTS CALENDAR
Tuesday, February 25, 2020
National FFA Week

GBB (A) @ Devils Lake (Region 4 Tourney) TBA

Region 2 Academic Olympics @ Rugby 8:30 AM

Track Meeting (Grades 7-12) 12:25 PM
Wednesday, February 26, 2020
National FFA Week

FCCLA District #2 STAR Events
Thursday, February 27, 2020
National FFA Week

GBB (A) @ Devils Lake (Region 4 Tourney) TBA
Friday, February 28, 2020
National FFA Week

BBB (A) @ Devils Lake (District 7 Tourney vs New Rockford/Sheyenne) 7:30 PM
COMMUNITY