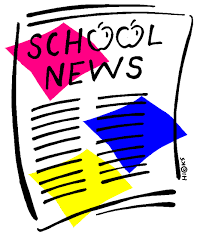 Daily Memo
Fessenden-Bowdon School
Tuesday, August 27, 2019
FESSENDEN-BOWDON PUBLIC SCHOOL
Announcements for Monday, September 23, 2019
Today's Lunch is Hot Dog on Bun, Baked Beans, Sauerkraut, Red/Green Grapes, Milk
Lunch Change ~ Wednesday's Lunch will be French Dip Sandwich.

School Picture Retake Day with RWP, Inc will be on Thursday, October 3, 2019 for anyone that missed the first round of pictures or need to retake pictures. Please bring your packet back with you at the time of pictures and if you need an order form please let the office know.

Any Items to be included in the Daily Announcements need to be emailed to jenn.tesch@fessenden.k12.nd.us by 3:00 PM to be included in the next day's memo.
Staff Reminder ~ If you have not paid your Hospitality/Jeans Dues yet, please do so as soon as possible.
ALL STAFF ~~ The Hospitality Lunch Sales sign-up sheet for Volleyball games is located in the office. If you have not already signed up, please stop in the office to do so.
Staff & Students ~ Reminder Efunds is available to pay all fees online.
Fessenden-Bowdon School is collecting Box Tops and Our Family Labels.

Our Family Labels can be turned into the main office. When turning them in, we ask that you put the labels into envelope/baggy with the number of labels on the outside of the envelope/baggy.

Box Tops for Education program is changing the way we can earn cash for our school! Over the summer, participating brands have begun to change their packaging from the traditional Box Tops clip to the new Box Tops label. Going forward, instead of clipping from packages and checking expiration dates, all Box Tops will be earned digitally by scanning your receipt. The Box Tops for Education team has worked hard to build a NEW-and-improved, user-friendly Box Tops mobile app available now at your Apple or Google Play stores. If you still have some clipped Box Tops, please turn them into the office by October 1, 2019 for us to submit. Thanks in advance.
SCHOOL EVENTS CALENDAR
Monday September 23, 2019
JH Volleyball (7/8) @ Carrington 4:00 PM

JV Football @ Bottineau 5:00 PM

Little Stingers Football @ Harvey (vs Carrington) 5:00 PM
Tuesday September 24, 2019
Cross Country @ Beulah (Black Sands Golf Course) 2:00 PM

Volleyball (A/B/C) @ Washburn 5:00 PM

Elementary GBB (5th/6th Grade) @ Maddock 5:00 PM

JH Football @ Harvey (vs Turtle Mountain 5:00 PM
Wednesday September 25, 2019
Hand-washing Presentation (Grades K-2)
COMMUNITY
Wells County District Health and Central Prairie Social Services will be sponsoring a Car Seat Check-Up on Wednesday, September 25th, from 4:00-6:00 PM at the Fessenden Ambulance Bay.