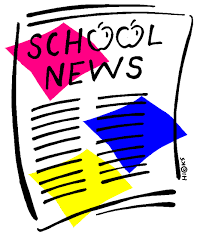 Daily Memo
Fessenden-Bowdon School
Tuesday, August 27, 2019
FESSENDEN-BOWDON PUBLIC SCHOOL
Announcements for Wednesday, January 22, 2020
Today's Lunch is Chicken Patty on Bun, Corn, Applesauce, Milk
Junior Hoops basketball for grades K-5 will meet on the following Saturday Mornings (January 25th, & February 1st). Grades K-2 will be at 9:00 AM and Grades 3-5 will be at 10:00 AM in the New Gym. Junior Hoops will emphasize fun & enjoyment, skill development, and help players work cooperatively on and off the court. We plan to showcase what we have learned at halftime of the girl's basketball game on Friday, February 7th. If you would like to be involved, please call or text Miranda Kittelson at 701-429-3889. Hope to see you there!
Lego Robotics (Grades 3-6) will meet this week on Thursday, January 23rd from 3:30-5:00 PM. Their Regional Competition will be Friday, January 24th, in Belcourt (bus leaves right at 6:30 AM).
Any Items to be included in the Daily Announcements need to be emailed to jenn.tesch@fessenden.k12.nd.us by 3:00 PM to be included in the next day's memo.
Staff & Students ~ Reminder Efunds is available to pay all fees online.
SCHOOL EVENTS CALENDAR
Thursday, January 23, 2020
Lego Robotics Practice 3:30 PM

BBB (A/B/8/7) @ Fessenden (vs Dakota Prairie) 4:00 PM

Wrestling @ Harvey (PCN) 6:30 PM
Friday, January 24, 2020
Lego Robotics Regional @ Belcourt - Bus departing right at 6:30 AM

GBB (A/B/JH) @ Fessenden (vs Four Winds) 4:00 PM
Saturday, January 25, 2020
BBB (B) @ Nedrose Tourney ~ TBA

FFA @ Rugby Judging Events

BBB (JH) @ Harvey (vs Drake/Anamoose) 10:00 AM

GBB (A/B/C) @ Towner (vs TGU) 4:30 PM
Monday, January 27, 2020
BBB (JH) @ Rugby 4:30 PM

GBB (A/JH) @ Harvey (vs Lakota) 6:00 PM
COMMUNITY